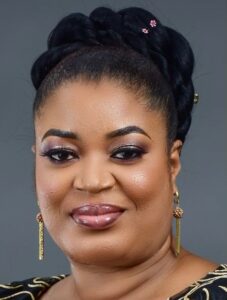 Dr. Abimbola Alale is the current Managing Director and Chief Executive Officer (MD/CEO) of the Nigerian Communications Satellite Limited (NIGCOMSAT), Nigeria.
She is a PhD degree holder of Security & Strategic Studies from Nasarawa State University, Keffi-Nigeria. She also holds a Master degree in Space Studies (MSc) and an MBA degree from the International Space University, Strasbourg-France.
Other Certificates were obtained at the Massachuttes Institute of Technology, USA and the Management School, London and Lagos Business School, Nigeria.
Dr. Abimbola is a Fellow of African Scientific Institute (FASI), Certified Forensic Investigation Professional (CFIP), Member International Academy of Forensics (MIAF), Fellow of Chartered Public Diplomacy and Management (FCPDM), Fellow of Corporate Administration Institute (FCAI). She's the representative of the African Aeronautics & Space Organisation (AASO) in Nigeria.
She is a current Council Member (2021) of the World Economic Forum:- Global Future Council on Space. She is an active member and one of the major contributors of ESOA (European Middle East Africa Satellite Operators Association). She is one of the conveners of Women in Aerospace in Nigeria. She successfully hosted the 2020 ACTINSPACE Hackathon event in Nigeria being MD/CEO of NIGCOMSAT. She was a board member of Space Generation Advisory Council. She is an advocate of space sustainability and responsible use of outer space and features on events organized by the UNOOSA-United Nations Office for Outer Space Affairs/UNIDIR-United Nations Institute for Disarmament Research.
She's awarded of African Aeronautics & Space Innovation Trophy (ASIT) 2021
Being a woman that has passion for the space sector, she has pursued an active career in the sector for over two decades. She has served in various capacities both at the National Space Research Development Agency and Nigerian Communications Satellite as an Assistant Project Director and Executive Director Marketing respectively. She was part of the team that championed the manufacture and launch of the first sub-Saharan Africa communication satellite (NigComSat-1) in 2007 as well as NigComSat-1R in 2011.
Dr. Abimbola actively worked on some National Priority Projects such as the NigComSat-1, NigComSat-1R and the establishment of a National Direct-to-Home Digital Transmission Centre. She stands tall amongst satellite professionals not only in Nigeria but the world as a visible woman at the head of a communication satellite business around the globe.